Internal Medicine Meeting 2020 provides the best opportunity to get one-on-one time with physician audiences. In three days, you can interact with thousands of the decision-making physicians your business depends on; half of attendees won't attend any other meeting this year.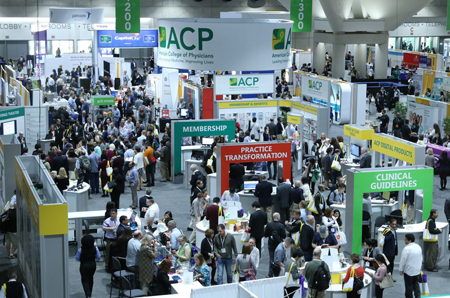 ---
Los Angeles Convention Center | Exhibit Hall GHJ | April 23-25, 2020
---

Exhibit Hall Floor Plan
View the interactive exhibit map to see participating exhibitors and available booth spaces.

Exhibitor FAQs
Get the answers to questions frequently asked by fellow exhibitors.

Who Attends
See professional and geographical data on our attendees.

Exhibit Booth Space Rates
This page also includes our payment schedule and what's included with your booth fee.

Why Exhibit
Thousands of internists gather each year for ACP's premiere national conference. Find out more of our top reasons you should exhibit!

Who Exhibits
See the list of over 200 exhibitors who reserved booth space in 2019.