ACP's Internal Medicine Meeting 2020 is Canceled.
You are here
Medical Student Story Slam 2020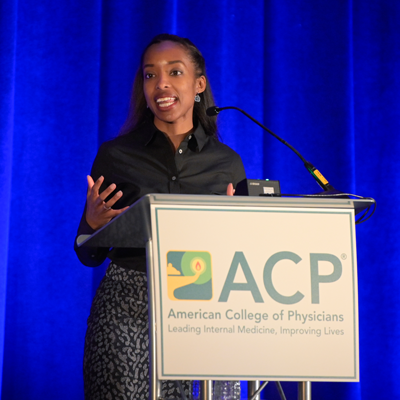 ACP is hosting a story slam event specifically for medical students at Internal Medicine Meeting 2020 in Los Angeles, as part of Mastering Medicine Together for Students.
We will be selecting eight medical students to present stories on the theme of resiliency. Each vignette will be five minutes long.
Registration is closed. Applicants will be notified of their acceptance by March 31, 2020.
Storyteller Eligibility Requirements
Current ACP Medical Student Member
Internal Medicine Meeting 2020 Registrant
Available on Friday, April 24 from 11:00 a.m. to 1:00 p.m
Story Slam Theme: Resiliency
Think of a time during medical school when you overcame a challenge. Did you have an experience that dispelled worries or anxieties? Is there advice you would give yourself as a younger medical student that you know now? Did your tenacity remedy an unfortunate situation? Answer with an inspirational five-minute story that exemplifies resiliency.
Registration is closed. Applicants will be notified of their acceptance by March 31, 2020.
---
Frequently Asked Questions
What is a Story Slam?
Story slams are events that celebrate storytelling by inviting participants to share brief stories with an audience. See Past ACP Story Slams
Think carefully about the story you want to share. Aim for sharing a story that conveys the fascinating, awe-inspiring, exciting, fulfilling nature of doctoring. Avoid profanity, refrain from slander, and be respectful of patients, colleagues and others mentioned in your story. Tasteful humor is welcome.
What Will Happen To My Story During and After Story Slam?
You will share your story with the live audience and the event will be streamed online as a live video event. The storytelling will be professionally video-taped and the videos will be eligible for consideration for publication on the Annals of Internal Medicine Web site, www.annals.org, a site that receives about 500,000 visitors monthly. Posted videos will be publicly accessible for free and be disseminated using Annals' traditional and social media channels.
Copyright and Permissions
By participating in the event, you are agreeing to sign over copyright for the audio/video recordings to Annals of Internal Medicine's publisher, the American College of Physicians. ACP will ask you to sign a copyright agreement before the event. If you have any concerns about these conditions, please let Emily Fest know immediately.
If you cannot mask the identity of others mentioned in your story, you will need to obtain permission from them prior to the event to identify them in your story. If it is necessary for you to obtain such permission, please contact us for a form that you can use to be sure you appropriately inform those identified. We need your assurance that you obtained permission and could provide documentation of that permission in the event that ACP needed that documentation.
How Should I Dress?
Dress however you will be comfortable — formal business attire is not required unless that is what makes you most comfortable! Keep in mind that the event will be video-taped so you may wish to avoid attire that might be distracting (loud prints, jangling jewelry).
When Will I Know If I Got Accepted?
Stories will be judged by the Council of Student Members and winners will be notified by March 31, 2020.
Questions? Please contact Emily Fest at membership@acponline.org or 215-351-2611.