Vivek H. Murthy, MD, MBA
19th Surgeon General of the United States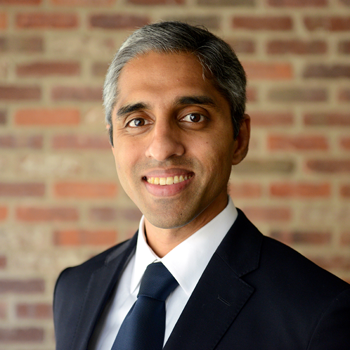 Vice Admiral Vivek H. Murthy (@vivek_murthy) served as the 19th Surgeon General of the United States from 2014-2017. As Surgeon General, Dr. Murthy commanded the US Public Health Service Commissioned Corps, a uniformed service of 6,600 public health offices serving vulnerable populations in 800 locations domestically and abroad. During his tenure, he helped address critical public health issues, including the Ebola outbreak, the Zika virus, low rates of physical activity, and the explosion in e-cigarette use among youth. In 2016, he launched the TurnTheTideRx campaign to combat the opioid epidemic. Dr. Murthy also issued the first Surgeon General's report on Alcohol, Drugs, and Health to mobilize the nation to address our addiction crisis, and he released the first report on e-cigarettes and youth.
Dr. Murthy has called emotional well-being one of the most important and most underappreciated drivers of health. In particular, he has drawn attention to the profound impact that loneliness and social disconnection have on health, productivity, and education.
Thursday, April 11
Opening Ceremony and Keynote Speaker
9:30–10:30 a.m. • Pennsylvania Convention Center
Open to all attendees. No tickets required.
Dr. Murthy received his Bachelor's degree from Harvard and his M.D. and M.B.A. degrees from Yale. He completed his residency training at Brigham and Women's Hospital and Harvard Medical School where he later joined the faculty as an internal medicine physician and instructor. As a clinician-educator, Dr. Murthy has cared for thousands of patients and trained hundreds of residents and medical students.
In addition to clinical practice, Dr. Murthy has dedicated himself to improving health through the lens of service, research, and entrepreneurship. He co-founded VISIONS, an HIV/AIDS education program in India and the United States and the Swasthya project ("health and wellbeing" in Sanskrit), a community health partnership in rural India that trained women to be health providers and educators. As a research scientist, Dr. Murthy conducted laboratory research on vaccine development and studied the participation of women and minorities in clinical trials. He also co-founded TrialNetworks, a software technology company that accelerates collaboration in clinical trials.