In addition to offering 200 courses on clinical and practice management topics, the ACP Internal Medicine Meeting holds a variety of special events and networking opportunities each year.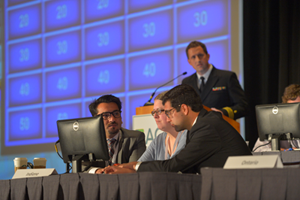 Wednesday, April 10
First-Time Attendee Networking Reception
4:45–6:00 p.m. • CC
By invitation only.
Your first Internal Medicine Meeting can be daunting — hundreds of sessions, thousands of attendees, and a huge convention center to navigate! To get the most out of the meeting, your first stop should be the First-Time Attendees Networking Reception. Drop by for a chance to meet other first-time attendees, ask questions of staff and volunteers who will help provide guidance for navigating your first ACP meeting, and talk with College leaders. No matter your professional setting or focus, members who have been through several meetings already will be on hand to help guide you to the best sessions for your needs and provide advice on optimizing your meeting experience.
Staff will also be available to show you how to use the meeting app, find networking and social opportunities, and map your route in the Convention Center to make sure you get where you need to be when you need to be there! We are so happy you will be with us for the first time and want this to be the first of many ACP meetings you will attend.
This event is designed for post-training physicians attending the meeting for the first time.
Annals of Internal Medicine: "On Being a Doctor" Story Slam
5:30-7:30 p.m. • HQ
Open to all attendees. Tickets required: RSVP event with cash bar and light hors d'oeuvres.
For more than two decades, Annals of Internal Medicine has published personal essays by physicians in a series called "On Being a Doctor." Building on this popular series, Annals developed the "On Being a Doctor" Story Slam (www.annals.org/storyslam). Story slams are events that celebrate storytelling by inviting participants to verbally share brief stories with an audience. Sharing stories reminds us what is special about our profession—storytellers and listeners alike find the Story Slams rejuvenating. Join us for an evening of storytelling during Internal Medicine Meeting 2019. Ten of your colleagues will share stories that are sure to provoke thought and inspire you. This event is not designated for CME credit.
Thursday, April 11
Opening Ceremony and Keynote Speaker
9:30–10:30 a.m. • CC
Open to all attendees. No tickets required.
All attendees and their guests are invited to attend the Opening Ceremony, which marks the official beginning of Internal Medicine Meeting 2019. Vivek H. Murthy, MD, MBA, 19th Surgeon General of the United States, will give this year's keynote address.
Volunteerism Networking Luncheon
12:45–2:15 p.m. • CC
Reservations required.
This luncheon provides an opportunity for physicians to share plans, experiences, and information about medical volunteer work both in the U.S. and abroad. Experienced volunteers and those who are considering to volunteer are all welcome.
Convocation Ceremony
6:00 p.m. • CC
Open to all attendees. No tickets required.
Please join ACP leaders in honoring those recently elected to Fellowship. Recognized by their peers for outstanding medical scholarship and professional achievement, new Fellows march alongside their ACP governors and local awardees in a moving ceremony. Designed to showcase excellence in medicine, Convocation includes the presentation of Mastership and specific individual and organizational awards granted by the College. The global community of internal medicine is represented by colleagues from the International Society of Internal Medicine, the European Federation of Internal Medicine, and the Royal Colleges and Academies, who join ACP leaders on stage to celebrate this important event.
International Reception
8:00–9:30 p.m. • HQ
Open to all attendees. No tickets required.
This reception is open to all international attendees and their guests, as well as other attendees who are interested in meeting with leaders from ACP and internal medicine societies from around the world.
Friday, April 12
International Forum
Global Experiences and Initiatives to Promote Wellbeing
9:00–11:00 a.m. • HQ
Tickets required.
Join ACP and worldwide internal medicine leadersto discuss an important topic to all internists. A moderator will lead a panel of international physicians, followed by a discussion by all attendees.
Space is limited.
Clinical Skills Center Open House
7:00-7:45 a.m. • CC, Hall C
Open to all attendees. No tickets required.
Stop by for complimentary coffee and an opportunity to meet the faculty and to roll up your sleeves and experience all that the Clinical Skills Center has to offer. Participate in a scavenger hunt and a putting contest for a chance to to win fantastic prizes, such as a free copy of the new MKSAP 18 or an ACP gift card.
Saturday, April 13
ACP Innovation Challenge 2019: Fostering Partnerships Between Physicians and Patients
10:30 a.m.-12:00 p.m. • CC
Open to all attendees. No tickets required.
Come and witness this live competition focused on innovative ideas to transform internal medicine. Selected finalists present their ideas to a panel of judges who award prize money totaling $25,000 to implement their best and brightest ideas. Vote for your favorite finalist at this fun, high-stakes, interactive competition and see who has what it takes to transform health care! To submit your project idea by November 30, 2018 and have a chance to become one of four finalists, see our Innovate with ACP web page.
Annual Business Meeting and Town Hall
12:45–1:45 p.m. • CC
Open to all attendees. No tickets required.
All ACP members are encouraged to attend. Incoming Officers, new Regents, and first-year Governors will be introduced. The Treasurer and EVP/CEO will report on the College's current status and priorities.
Events for Early Career Physicians, Residents/Fellows, and Medical Students
Internal Medicine Meeting 2019 offers a special three-day program of ancillary events and workshops specifically for early career physicians, residents and fellows-in-training, and medical students.
ACP Doctor's Dilemma®
Thursday–Friday • HQ
Saturday • CC
ACP Posters Hospitality Area
Thursday–Saturday • CC
Resident/Fellow Member Luncheon Forum 2019: The Patient Said %!#$# (What)?
Thursday • 12:45–2:15 p.m. • CC
Do you ever find yourself involved in a nonclinical conversation that you are unsure how to handle? Has a patient or family member ever made you uncomfortable by making offensive or unsolicited comments in a clinical setting? The Council of Resident/Fellow Members invites you to an interactive, lively session where you can equip yourself with tools to navigate difficult conversations in the exam room. Complimentary boxed lunches will be available to the first 100 attendees.
Early Career Physicians Networking Lunch
Thursday • 12:45–2:15 p.m. • CC
Resident/Fellow Abstract Luncheon
Friday 12:45–2:15 p.m. • CC
International Medical Student Information Session
Friday 4:00-5:00 p.m. • CC
Medical Student Mentoring Breakfast
Saturday • 7:00–9:00 a.m. • HQ
Reservations required at the on-site Medical Student Welcome Center.
Medical Student Abstract Luncheon
Friday • 11:00 a.m.–12:30 p.m. • CC
Recognition Reception for ACP Young Achievers
Saturday • 6:30–7:30 p.m. • CC
Hackathon
Saturday • 8:00–12:00 p.m. • CC, Hall C
Advance registration required.
ACP is partnering with MIT's renowned Hacking Medicine program to bring a 4 hour Hackathon to Internal Medicine Meeting 2019. Join like-minded professionals, engineers, designers, developers and business people to brainstorm and build innovative prototypes to improve clinician workflow. No technical expertise is required.
Legend
CC • Pennsylvania Convention Center
HQ • Philadelphia Marriott Downtown