In addition to offering 200 courses on clinical and practice management topics, the ACP Internal Medicine Meeting holds a variety of special events and networking opportunities each year.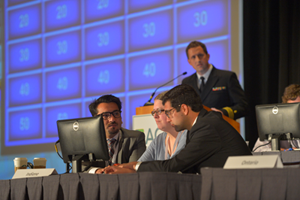 Wednesday
Music and Medicine: Leonard Bernstein at 100
6:00–7:30 p.m. • HQ
Open to the public. Advance ticket purchase required.
Psychiatrist and concert pianist Dr. Richard Kogan will deliver a special presentation that explores the role of music in healing and examines the life, mind, and music of the great American composer/conductor Leonard Bernstein (1918–1990). The program will be illuminated by performances of Bernstein favorites including West Side Story. Dr. Kogan, a graduate of Juilliard Pre-College, Harvard College, and Harvard Medical School, is a Clinical Professor of Psychiatry at Weill Cornell Medical College and the Artistic Director of the Weill Cornell Music and Medicine Program. He has been praised for his "exquisite playing" by The New York Times, and The Boston Globe wrote that "Kogan has somehow managed to excel at the world's two most demanding professions."

Tickets are open to the public, $50.00 each. Tickets are only available in advance. Limit 6 tickets per customer.
Thursday
Opening Ceremony and Keynote Speaker
9:30–10:30 a.m. • CC
Open to all attendees. No tickets required.
All attendees and their guests are invited to attend the Opening Ceremony which will feature a keynote address by Karen DeSalvo, MD, MPH, MSc, FACP. The Opening Ceremony marks the official beginning of Internal Medicine Meeting 2018.
Volunteerism Networking Luncheon
12:45–2:15 p.m. • CC
Reservations required.
This luncheon provides an opportunity for physicians to share plans, experiences, and information about medical volunteer work both in the U.S. and abroad.
Experienced volunteers and those who are considering to volunteer are all welcome.
ACP Innovation Challenge 2018: Re-imagining the Practice of Internal Medicine
11:15 a.m.-12:45 p.m. • CC
Open to all attendees. No tickets required.
This live competition will feature finalists with the best and brightest ideas that have the potential to transform the practice of internal medicine on a national level. Selected physicians will present to a panel of distinguished judges, who will ask challenging questions and provide candid feedback. Winners will be selected and awarded up to $25,000 in prize money to support implementation/study of the idea. Come vote for your favorite finalist at this fun, high-stakes, interactive competition and see who has what it takes to transform healthcare! Innovation Challenge Application Information
Convocation Ceremony
6:00 p.m. • CC
Open to all attendees. No tickets required.
Please join ACP leaders in honoring those recently elected to Fellowship. Recognized by their peers for outstanding medical scholarship and professional achievement, new Fellows march alongside their ACP governors and local awardees in a moving ceremony. Designed to showcase excellence in medicine, Convocation includes the presentation of Mastership and specific individual and organizational awards granted by the College. The global community of internal medicine is represented by colleagues from the International Society of Internal Medicine, the European Federation of Internal Medicine, and the Royal Colleges and Academies, who join ACP leaders on stage to celebrate this important event.
International Reception
8:00–9:30 p.m. • HQ
This reception is open to all international attendees and their guests, as well as other attendees who are interested in meeting with leaders from ACP and internal medicine societies from around the world.
Friday
International Forum
9:00–11:00 a.m. • CC
Tickets required.
The Annual ACP International Forum provides an opportunity for ACP leaders and leaders of internal medicine from around the world to discuss an important topic of interest to all internists. A moderator leads a panel of four to six international physicians in commenting on key questions pertaining to the Forum's theme, followed by a discussion by all attendees.
Saturday
Annual Business Meeting
12:45–1:45 p.m. • CC
Open to all attendees. No tickets required.
All ACP members are encouraged to attend. Incoming Officers, new Regents, and first-year Governors will be introduced. The Treasurer and EVP/CEO will report on the College's current status and priorities.
Annals of Internal Medicine: "On Being a Doctor" Story Slam
9:30-11:15 a.m. • CC
Open to all attendees. Tickets required.
For more than two decades, Annals of Internal Medicine has published personal essays by physicians in a series called "On Being a Doctor." Building on this popular series, Annals developed the "On Being a Doctor" Story Slam (www.annals.org/storyslam). Story slams are events that celebrate storytelling by inviting participants to verbally share brief stories with an audience. Sharing stories reminds us what is special about our profession—storytellers and listeners alike find the Story Slams rejuvenating. Join us for a morning of storytelling during Internal Medicine Meeting 2018. Ten of your colleagues will share stories that are sure to provoke thought and inspire you. This event is not designated for CME credit.
Events for Early Career Physicians, Residents/Fellows, and Medical Students
Internal Medicine Meeting 2018 offers a special three-day program of ancillary events and workshops specifically for early career physicians, residents and fellows-in-training, and medical students.
ACP Doctor's Dilemma®
Thursday–Saturday • CC
ACP Posters Hospitality Area
Thursday–Saturday • CC
Resident/Fellow Member Luncheon Forum: 2018
Thursday • 12:45–2:15 p.m. • CC
Servant Leadership in Medicine: How Natural Disasters Inspire Civic Duty to Rebuild Healthier Communities
Enjoy a lively lunch discussion with health care personnel on the ground during Hurricane Katrina. Reflect on their experiences and stories of recovery to determine the future roles of internists during natural disasters.
Early Career Physicians Networking Lunch
Thursday • 12:45–2:15 p.m. • CC
Resident/Fellow Abstract Luncheon
Friday • 12:45–2:15 p.m. • CC
International Medical Student Information Session
Friday 4:00-5:00 p.m. • CC
Medical Student Mentoring Breakfast
Saturday • 7:00–9:00 a.m. • CC
Reservations required at the on-site Medical Student Welcome Center.
Medical Student Abstract Luncheon
Saturday • 11:00 a.m.–12:30 p.m. • CC
Recognition Reception for ACP Young Achievers
Saturday • 6:30–7:30 p.m. • CC
Legend
CC • Ernest N. Morial Convention Center
HQ • New Orleans Marriott