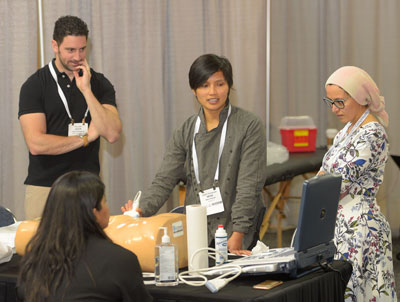 The Herbert S. Waxman Clinical Skills Center is a dynamic collection of educational activities providing hands-on learning and interactive self-study. Learn how to safely perform common procedures, refine interpretive skill, and update physical examination skills in a unique, small-group learning environment.
Waxman Clinical Skills workshop titles, descriptions, and complete schedule will be posted in the fall.
Advance Registration for Waxman Center Activities
Effectively pre-plan your meeting experience, manage your schedule, and ensure your seat for the ticketed activities you want to attend by registering in advance for Waxman Center activities. Purchase a reserved ticket ($15 per activity) to guarantee admittance to the activities of your choice, at the time you want, and avoid waiting in line. Registration for Waxman Center activities will be open in the fall.
Past Waxman Center Workshops Have Included:
Ankle–Brachial Index by Doppler
Chronic Leg Wound Management
EKG Self-Guided Tour
Foot and Ankle Disorders
Incision and Drainage of Abscesses
Ophthalmoscopic Skills
Physical Examination Tutorials
PICC Line Placement
Skin Biopsy and Cryosurgery
Suturing Skills
Toenail Removal
Ultrasound-Guided Central Line Placement
Ultrasound-Guided Lumbar Puncture
Ultrasound-Guided Paracentesis
Ultrasound-Guided Thoracentesis
Clinical Skills Center Hours of Operation
Thursday, 8:30 a.m.-6:00 p.m.
Friday, 8:00 a.m.-6:00 p.m.
Saturday, 8:00 a.m.-3:00 p.m.