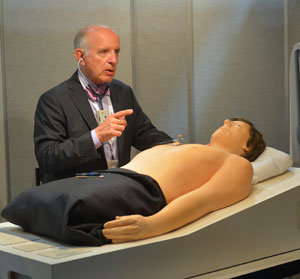 The Herbert S. Waxman Clinical Skills Center is a dynamic collection of educational activities providing hands-on learning and interactive self-study. Learn how to safely perform common procedures, refine interpretive skills, and update physical examination skills in a unique, small-group learning environment.
Special Presentations: Healthcare After Hurricanes
On Friday, April 20, two separate presentations will be held where colleagues share their experiences of practicing medicine after a natural disaster and provide insights on providing care with limited resources. Topics covered are "Lessons Learned from Katrina" and "The Puerto Rico Experience." Presentation times and speaker details.
Purchase Your Reserved Tickets
Effectively preplan your meeting experience, manage your schedule, and ensure your seat for the ticketed activities you want to attend by registering in advance for Waxman Center activities. Purchase a reserved ticket ($15 per activity) to guarantee admittance to your preferred activities, at the time you want. After you've registered for Internal Medicine Meeting 2018, visit this page to purchase your reserved tickets. Tickets will be on sale until midnight on Tuesday, April 17. Onsite registration is unavailable for the Waxman Clinical Skills Center.
Policy for Reserved Waxman Center Activities
Your $15 registration fee reserves your seat until 10 minutes after the activity begins. After 10 minutes, unfilled seats will be made available to others. You will be admitted if capacity allows.
Cancellation Policy
Refunds will be given for Waxman Center cancellations made until April 4, 2018. After April 4, 2018, no refunds will be given.
Clinical Skills Center Hours of Operation
Thursday, 8:30 a.m.-6 p.m.
Friday, 8 a.m.-6 p.m.
Saturday, 8 a.m.-3 p.m.