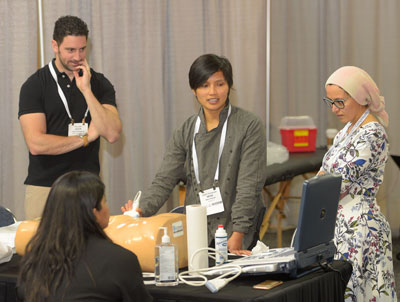 The Clinical Skills Center, known as the "Thrills and Skills" epicenter of the meeting, hosts a variety of clinical skills enhancement activities. Learn how to safely perform common procedures, refine interpretive skills, and update physical examination skills in a unique, small-group learning environment. Plus, check out other exclusive events and exhibits in the area, all designed to enrich your meeting experience.
Advance Registration for Clinical Skills Center Activities - Be Sure to Reserve Your Ticket in Advance!
After you've registered for the meeting, reserve tickets for the Clinical Skills Center to guarantee your place in our popular hands-on learning events. Purchase a reserved ticket for $15 per activity to secure your spot at your desired time. Get more information and purchase your reserved tickets. Tickets will be on sale until midnight on Tuesday, April 9, 2019. Onsite registration is not available for the Clinical Skills Center.
Policy for Reserved Clinical Skills Center Activities
Your $15 registration fee reserves your seat until 10 minutes after the activity begins. After 10 minutes, unfilled seats will be made available to others. You will be admitted if capacity allows.
Cancellation Policy
Refunds will be given for Clinical Skills Center cancellations made until April 4, 2019. After April 4, 2019, no refunds will be given.
Clinical Skills Center Hours of Operation
Thursday, 9 a.m.-6 p.m.
Friday, 7 a.m.-6 p.m.
Saturday, 8 a.m.-3 p.m.