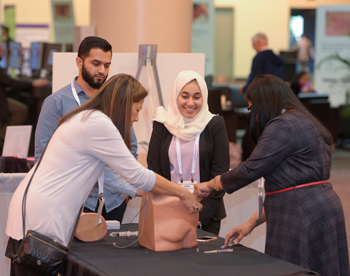 Clinical Skills Center
Build and refresh your skills with hands-on and interactive learning opportunities in San Diego. Learn alongside your colleagues in small-group environments, benefit from direct feedback from instructors, and refine your training.
This highly popular learning space is the place to be to participate in a dynamic collection of hands-on and interactive educational activities. Learn how to perform common procedures, refine interpretive skills, and update physical examination skills in a unique, small group learning environment.
Ultrasound Alley
Located in the Clinical Skills Center, Ultrasound Alley is the ideal destination for both beginners to Point-of-Care Ultrasound (POCUS) education and those with ultrasound experience. Sessions cover a wide variety of topics to help you improve your knowledge and practice, from building your ultrasound portfolio to ultrasound-guided procedures. Don't miss all-new topics for 2023:
Dialysis Access Evaluation by Physical Exam and Ultrasound

NEW

Ultrasound-Guided Peripheral IV Placement

NEW
Advance Registration for Clinical Skills Center Activities
Remember to purchase your ticket in advance! Clinical Skills Center activities fill up quickly. Ensure your place in the activities you want to attend by purchasing a reserved ticket ($25 per activity) to secure your spot at your desired time. Tickets will be on sale until midnight on Tuesday, April 25, 2023. Onsite registration is not available for the Clinical Skills Center.
Policy for Reserved Clinical Skills Center Activities
Your $25 reservation fee reserves a seat until the activity begins. Because capacity is limited and demand is strong, seats left unfilled when the activity begins will be made available to others, without exception. If you are late to a registered activity, you will only be admitted if capacity allows.
Cancellation Policy
Refunds will be given for Clinical Skills Center cancellations made until April 17, 2023. After April 17, 2023, no refunds will be given.
Clinical Skills Center Hours of Operation
Thursday: 8:00 a.m. – 6:00 p.m.
Friday: 8:00 a.m. – 6:00 p.m.
Saturday: 8:00 a.m. – 3:00 p.m.
Clinical Workshops
Clinical Workshops, because of their special educational requirements, have a limited number of seats available. There is no ticket required to attend these workshops, however, it is highly recommended that you arrive at the classroom well in advance of the scheduled start time. Seats will be filled on a first-come, first-served basis.