Special Sessions for Medical Students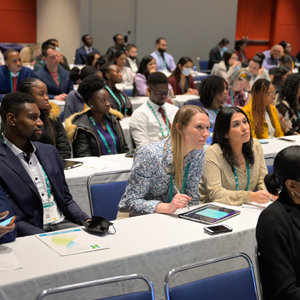 Find your place at Internal Medicine Meeting 2023! Special sessions for Medical Students will be available in San Diego during the 3-day learning event, with valuable educational programming designed to help you prepare personally and professionally for your career in medicine.
Program highlights include:
Sessions focused on preparing for Match, residency, career planning, and more
Connect with established internists at an exclusive mentoring breakfast
Medical Student Abstract Competition and Lunch
Special events to help you forge new connections with your peers
Medical Student registration also includes access to the full Scientific Program and meeting events, plus 30 days' post-meeting access to all recorded sessions, giving you more time to learn on your schedule.
Check back often for updates on programming for Medical Students! Schedule is subject to change.
Friday, April 28
11:00 a.m.- 12:00 p.m.
Stump the Professor
4:00-5:00 p.m.
Medical Students and Resident/Fellow Town Hall
Saturday, April 29
7:00–9:00 a.m.
Medical Students Mentoring Breakfast
12:00-1:30 p.m.
Medical Students Abstract Presentation Luncheon
1:30–2:20 p.m.
Mastering the Match for US Students
1:30–2:30 p.m.
Mastering the Match for International Students
2:45–3:45 p.m.
International Medical Students Information Session