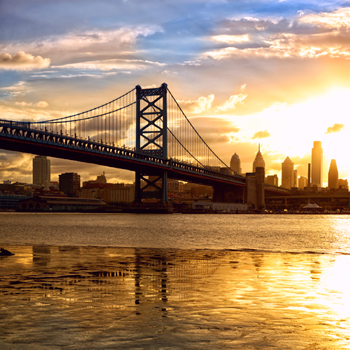 Get around Philadelphia with taxis, car rentals, hotel shuttles, airport transfers, and public transportation. Additionally, plan fun activities during your visit with the Philadelphia Visitors Guide.
Philadelphia
Visitors Information
Learn about Philadelphia's rich offerings with the Philadelphia Visitors Guide.
New Orleans
Transportation
Taxi/Ride Share
Many companies provide taxi service at the Philadelphia International Airport. Taxicabs can be accessed at Zone 5 on the Commercial Transportation Roadway. There is a $28.50 flat-rate charge (one-way fare, airport access fee already included) to travel to Center City Philadelphia. An additional $1.00 per passenger ($3.00 maximum) after the first passenger will be charged on flat rate trips between the Airport and Center City for passengers over age 12. Taxis are required to accept credit card payments. More information on taxi rates in Philadelphia.
Uber and Lyft also serve the Philadelphia International Airport and can be picked up outside baggage claim on the arrivals level. Follow the signs to ground transportation.
Car Rental
Avis is the preferred car rental company for Internal Medicine Meeting 2019. Use Avis Worldwide Discount number (AWD) B116099 when you book online or call 1-800-331-1600.
Hotel Shuttle
Complimentary shuttle service is provided for all participants at regular intervals to and from the Convention Center and participating hotels during the morning and afternoon hours.
PLEASE NOTE: There will be no midday shuttle service. The final schedule will be available at your hotel or at the convention center and will include the pickup locations at designated hotels and specific times. All times subject to change based on traffic conditions.
Hotel Shuttle Schedule will be posted here when it is final.
Airport Transfers and Public Transit
Southeastern Pennsylvania Transportation Authority, SEPTA, provides train service between Center City and the Airport on the Airport Regional Rail Line. Trains run every 30 minutes and operate from 4:52 am to 11:52 pm (Center City to Airport) and from 5:07 am to 12:30 am (Airport to Center City). The one-way Regional Rail fare to Center City is $6.75; or $9.25 to any other station beyond Center City.
Connections to other SEPTA Regional Rail lines and transit routes can be made at University City, 30th Street, Suburban and Jefferson Stations.
For additional SEPTA information, call 215-580-7800 or access http://www.septa.org/.
Parking
There are many parking options - both garages and lots - conveniently located within blocks of the Pennsylvania Convention Center. More information.