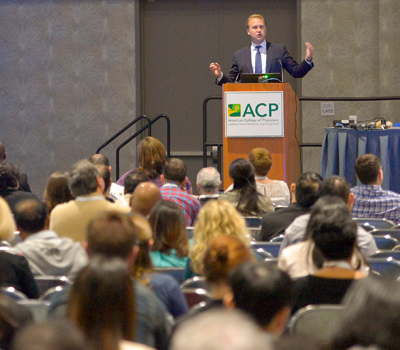 The Hospital Medicine Track is unique to ACP's Internal Medicine Meeting. The track includes over 35 scientific sessions and spans a wide selection of topics designed for physicians who primarily practice in an inpatient setting. Sessions focus on clinical issues, quality and safety, team-based approaches, transitions of care, and more.
Attending Internal Medicine Meeting 2019 offers hospitalists a choice – concentrate on sessions focused on inpatient care or pick and choose from a wide menu of topics in clinical medicine, administration, professionalism, medical informatics, hands-on skills, and more.
Extend Your Learning— Attend Pre-Courses Designed for Hospitalists
Pre-Courses offer intensive learning environments and are held before the scientific meeting begins.
Tuesday, April 9 (1 day)
Wednesday, April 10 (1 day)
Tuesday, April 9 - Wednesday, April 10 (2 days)
View the complete list and descriptions of Pre-Courses.
Hands-on Learning at the Clinical Skills Center
Update your physical examination skills, gain experience with procedures not routinely performed, refine communication skills, and practice on the latest medical software at the Clinical Skills Center during the meeting.