ACP's Internal Medicine Meeting 2020 is Canceled.
You are here
Why You Should Attend Internal Medicine Meeting 2020
The multidimensional meeting program from ACP includes hands-on learning, 200+ scientific and interactive sessions, and dynamic presentations, all from nationally recognized faculty.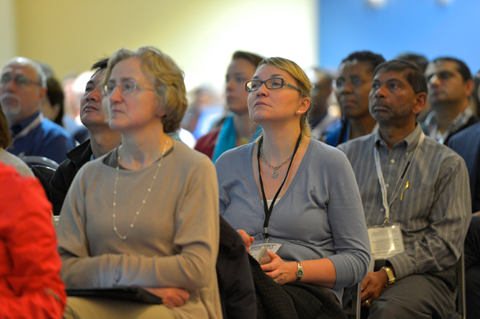 ACP's Internal Medicine Meeting is the premier clinical meeting for internists. It brings together great minds from across the country and around the world, and offers an exceptional educational experience delivered by world-class faculty. You'll gain essential medical knowledge and be updated on recent advances in patient care, both within your area of practice and across the broader discipline of internal medicine.
Choose from an impressive lineup of educational and scientific sessions (200+) and refresh your clinical skills at the Clinical Skills Center.
The Meeting's dynamic academic program, designed for primary care internists, hospitalists, and subspecialists, offers many options for hands-on learning, engaging sessions, and keen insights from a faculty of both nationally and internationally recognized educators. Take advantage of networking opportunities with colleagues and other educational and cultural events of interest, including:
A variety of learning formats, including Multiple Small Feedings of the Mind, Clinical Pearls, and Clinical Skills Activities to provide a well-rounded educational experience
Updates in general internal medicine and the subspecialties
Full-day Pre-Courses for intensive coverage of selected topics, including the popular Point-of-Care Ultrasound
Ability to earn CME credits and MOC points
Networking opportunities, collegial receptions, and a variety of special events
Tips and techniques offered through sessions and mini-skill activities aimed to thwart physician burnout and refocus on physician well-being and satisfaction
All of these experiences will leave participants with a wealth of indispensable clinical knowledge, an invigorated sense of collegiality, and new ideas to help you transform your practice.