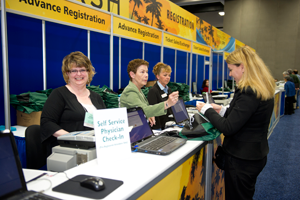 Get the most out of Internal Medicine Meeting 2021. Begin planning now.
Get detailed rate information on the meeting. Please note ACP members receive discounted rates.
---
Guest Registration & Child Care
Guest Program registration includes a complimentary breakfast and complimentary admission into the Exhibit Hall for three days, plus many more benefits. In addition, the Camp ACP Child Care Program has been exclusively designed for the guests and families of registered attendees. Registration opens in the fall.
Hotel & Travel
Plan for dining and sightseeing for your trip to Orlando. Hotel booking and travel discounts will be available in the fall.