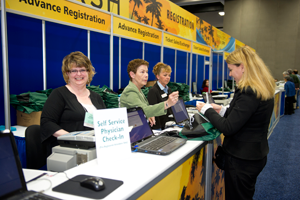 Get the most out of Internal Medicine Meeting 2018. Begin planning your travel & housing, meeting schedule, guest activities, and more.
Get detailed rate information on the meeting. Please note ACP members receive discounted rates.
---
Guest Program registration includes a complimentary breakfast and complimentary admission into the Exhibit Hall for three days, plus many more benefits. In addition, the Camp ACP Child Care Program has been exclusively designed for the guests and families of registered attendees.
Enjoy discounts on hotel and air travel, get information on shuttle services and other local transportation, and plan for dining and sightseeing in New Orleans, LA.
Get around New Orleans with taxis, car rentals, hotel shuttles, airport transfers, and public transportation. Additionally, plan fun activities during your visit with the New Orleans Visitors Guide.
ACP is offering special registration and delegation rates for many international attendees, and a wide variety of special events and resources.