Experience Internal Medicine Meeting 2023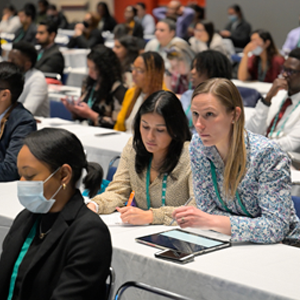 Each year ACP's Internal Medicine Meeting brings together thousands of internists and subspecialists from around the world to a single location to offer an extraordinary educational program and community experience. This April, we will convene in San Diego, California, where we are poised to continue the tradition of combining excellence, innovation, and forward-thinking to the program.
Over the course of three days, you'll gain a wealth of indispensable clinical knowledge, an invigorated sense of collegiality and professional revitalization, and new ideas to help you transform your practice.
Unmatched education with lasting impact
Explore over 170 of the highest-quality scientific and practice-related sessions and clinical workshops available. World-class faculty will invite you to discover new ways to improve your own techniques and patient care.
Experiential learning at its best
Build and refresh your skills with hands-on and interactive learning opportunities in San Diego. Learn alongside your colleagues in small-group environments, benefit from direct feedback from instructors, and refine your training.
Inspiring lifelong connections
Reunite with old friends and forge new relationships at diverse offerings of Chapter and regional receptions and networking luncheons. Attend special events and ceremonies that foster a sense of community in the profession that can't be found anywhere else.
Personalized learning with enduring education options
Learning extends beyond the three-day event with post-meeting access to all recorded scientific sessions. Curate your meeting experience by planning what sessions you want to attend live, and which ones you'll catch up on later. Plus, you can continue to earn CME/MOC at your own pace.